A corporate book and seal gives your Delaware corporation or Delaware LLC a way to organize and brand your business documents. When you form your business with A Registered Agent, Inc. you can purchase these corporate supplies through your online account. Here's what you get:
Corporate Book ($60):
Synthetic, black leather ½" zip binder
20 corporate stock/unit certificates
Stock transfer ledger
Certificate of incorporation
Meeting minutes packet
Annual shareholder meeting notice
Initial shareholder meeting waiver
Corporate ledgers
Corporate resolutions
Labels
Corporate Book for LLC ($60):
Synthetic, black leather ½" zip binder
Initial and annual meeting minutes
Certificate of formation
LLC operating agreement
20 custom membership interest certificates
Membership transfer ledgers
Initial member meeting minutes
Waiver of initial meeting
Annual meeting minutes
Initial resolutions
Labels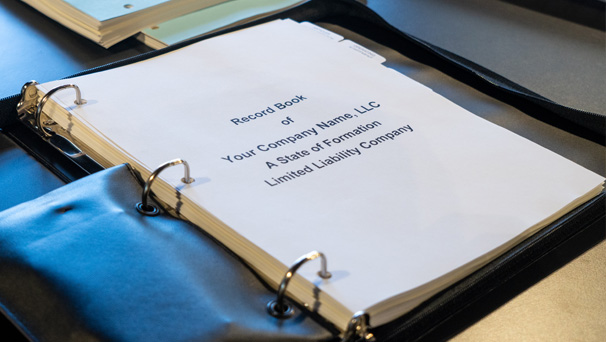 Corporate Seal ($40):
Laser engraved
Customized to match your business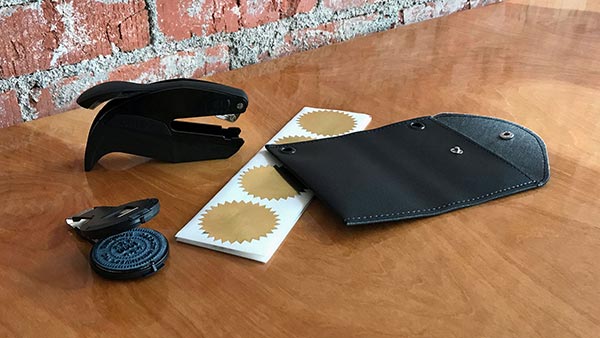 Delaware Corporate Book & Seal: FAQ
How do I get a corporate book and seal?
There are a couple ways to get your corporate book and seal:
If you're forming a new company with A Registered Agent, Inc., "Corporate Book & Seal" is an Optional Item you may add to your order at checkout.
If you've already formed your company with us, go into your online account, click "Hire Us" at the top of the page, select your company name, then select "Corporate Supplies" and choose the items you'd like.
What is a corporate book and seal?
A corporate book is a place to store official business records, like your certificate of incorporation, corporate stock certificates, meeting minutes, and more. For accounting and tax purposes, it's important to keep all your corporate records in one place. In addition to storing your formation documents, you'll probably want to add tax returns, auditor's letters, and even budgets.
A corporate seal—often in the form of a stamp—acts like a brand for your business. Corporate seals are added to physical documents to indicate a document's importance. Our corporate seal kit comes with a large roll of gold stickers and embosser so can create several corporate seals imprinted with your company name, year of formation, and the state in which you incorporated.
Is a corporate seal required in Delaware?
According to 8 DE Code § 122, Delaware corporations have the power to use a corporate seal—but it's not required. However, adding a corporate seal to physical business documents like stock certificates or meeting minutes is a standard way of legitimizing business forms.
Order Now